Backyard Progression
Today whilst flicking through some past photo's I came across the shot I took of my back garden while we were viewing the house before buying it. It was so "plain Jane" as the previous owners were just not into gardening, you should have seen inside the house!!!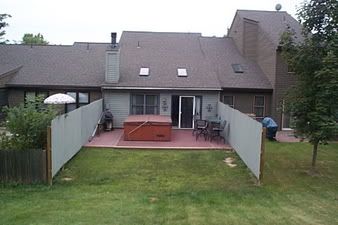 Backyard September 2004
As you can see I had a clean slate to work with and so set about designing things the way I wanted them. I spent the winter months making notes on the suns position, how much shade the yard got and where. I also discovered during this time that because of the hill (from the top of which the photo was taken) the drainage is horrible creating a "pond" at the bottom after any significant rain, it was great we had our own ice skating pond all winter!!!
I decided we needed raised beds at the bottom of the hill to give any plants the greatest chance of survival, my husband helped me with this as he wasn't impressed with the trenches I was digging all over the place! We were also able to score a whole bunch of free slate from the job-site my husband is currently project manager for, which enabled us to build a path pretty much for free. I am still trying to decide what I want to put between the stones. I also Winter Sowed a great many seeds so that I could get a good amount of plants as cheaply as possible, other plants were donated from neighbours who needed to divide theirs
Today this is what my back garden looks like, notice that I now call it a "garden" instead of a "yard"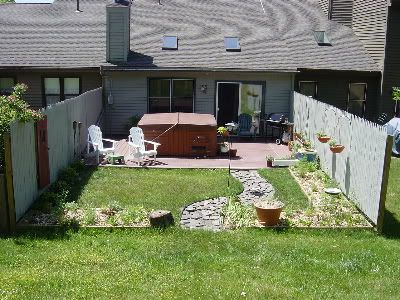 Backyard June 2005
I think it is a substantial improvement, although it is still quite sparse. This will obviously change as time progresses and the young plants fill in and grow. At this end of the path you will notice a large plant-pot, this contains a very small Butterfly Bush I brought at Walmart at the beginning of March. It is still VERY small but it is growing well and should look really good once it has matured enough
Shade Bed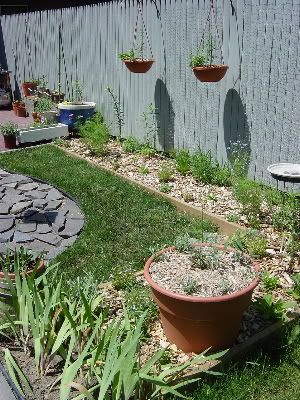 Sun Bed
This left hand picture is the side that gets the most shade, it only gets about 2 -3 hours of afternoon sun. The Hosta's you see are the one's I scored from my neighbour the other day, they look a bit raggedy but look great next year. In between each Hosta I have planted rescued Bleeding Hearts which should give some nice early interest next year. On the right hand side you can see the baby Butterfly Bush more clearly which I have underplanted with Snow-in-Summer, I'm hoping this falls over the edge a little to soften the lines of the pot