Fangia Fandango
Temperature:
7am - 75F (VERY humid!), 11am - 90F, 2pm - 95F
Weather Conditions:
Early AM - Hazy Sunshine, Lunchtime - Cloudy and threatening storm
Its very warm and humid today, apparently there are storms around which are causing it, I hope we get some rain from all these storms! Although the sun is going in and out behind the clouds that looks like storm-clouds still we have no rain!
My big project today was to get my "Down the Garden Path....." website up and running, its a photographic journey through my gardens, concentrating on what's in bloom as the year progresses. Its still very basic but will definitely develop as my gardens develop, I'm hoping that others will enjoy my photo's and journal as much as I do!. Check it out at
http://www.claireturner.com/GardeningPhotoJournal/index.html
My daily walk around my gardens has shown that there are many things starting to develop buds for blooming, most noticeable is the WS Forget-Me-Nots, but also the WS Cosmos, WS Petunias and more WS Baby's Breath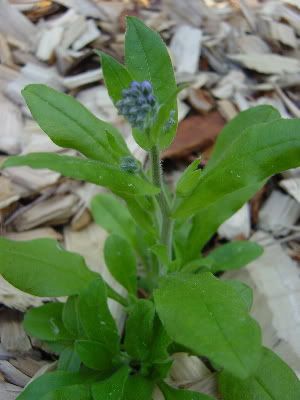 The thing that surprised me most about this mornings wander though is that one of the "Fangia Lily's" I brought at Wal-Mart has started blooming in full, strange because the whole plant is less than a foot tall!??