Getting Rid of Grass!
Temperature:
Hot!
Weather Conditions:
Sunny with the brief threat of rain
What a back-breaking day!!! Took it upon myself to clean out the area under my front "shade" plants to create a more defined bed which meant digging out ALL the grass which just seems to take over the planet!!!
This is what the area looked like before.....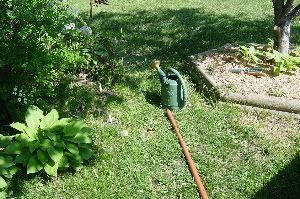 And, this is what it looks like now!.....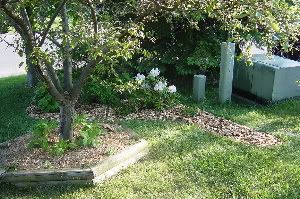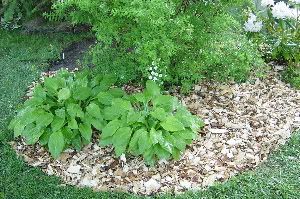 The bed looks a little bare at the moment but as the Red Ground Clover grows it should take over a nice portion of the ground around the Rhododendron bush, I am also thinking of adding some Creeping Jenny to that area for a contrasting green. I'm going to have Ken bring home some more stepping stone's so that I can put them behind the Spirea so that if the utility guys need to get in there they can do it without ruining my plants!
I spoke with my next door neighbour (Kate) about tending to their bed right outside the front door, she said I could do pretty much what ever I wanted as she has a "black-thumb" and isn't interested / doesn't have time. I'm basically just gonna keep it weeded and lay down some of these wood-chips so that it looks like one continuous bed and makes my side look better. I may add some plants later on but for now it will get the bare minimum!