Mulching the Beds
Temperature:
11am - 90F, 4pm - 95F
Weather Conditions:
Sunny
Very warm out today, the weatherman said it was going to be a bit rainy! Can't complain though, the temperatures are finally heating up which means the plants are finally starting to grow! So are the weeds though....
Ken has said that there are a whole bunch of chipped tree's on his job-site, so we are gonna head over there and grab a load to use as mulch on our beds. This is great news as I thought I would have to buy bags slowly over the summer, hopefully with this stuff the ground won't dry out so quickly and I can stem the growth of weeds!
Well.....We did it, we went to the site and brought a whole truck-load back with us. I've spent all afternoon out in the baking sun using a hand-rake to pull some of the weeds, "fluff" up the soil from any compaction that has occured and then cover every square inch with the newly aquired wood chips. I have to say that it does look really good now, looks much more finished - hopefully the soil and plants will agree. I gave them a GOOD watering to get them nice and moist, hopefully it will stay that way for a while as i don't want worry that the ground is getting to dry
Back beds.....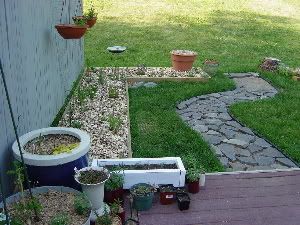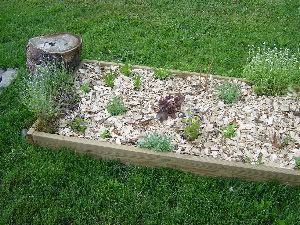 Front sun bed.....