Transplanting Continued!
Temperature:
7am - 60F, 9am - 85F
Weather Conditions:
AM - Sunny, Late PM - Thunderstorm with a small amount of rain
The Nasturtium that I planted between the stepping stone out front has poked its head up through the heavy mulch and is starting to gain leaves. This I didn't expect as I thought I had probably disturbed it to much during my weeding and mulch laying the other day, I am very pleased though, should look great as it grows in and blooms. The ones in the pots are also doing well, no idea where I'm gonna put them yet but I'm sure I'll find space!
All the things I transplanted yesterday seem to be doing well this morning. The two Coreopsis plants have gotten over their limping stage and are standing upright again which is promising. All the little seedlings are standing to attention and I should see growth soon. The Sweet Potato plants are looking great in their new home and for some reason look much more "sprightly" than they did yesterday in their individual black pots, maybe they just needed company and mulch?!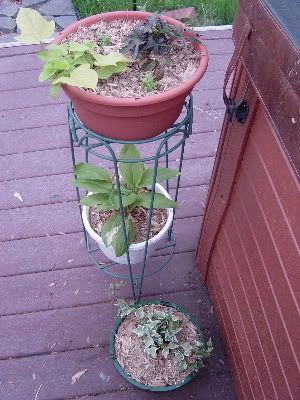 I have noticed out back that I am starting to get some flower buds on a few of the "Winter Sown" (WS) plants - namely the Forget-Me-Not's, Bachelor Buttons, Petunias and the Cosmos from Bluegrass Girl. I have also noticed that the Becket (hanging) Geranium has flower buds on it so I will get blooms from that. Its so exciting, I can't wait to see them all bloom
Transplanted the Wal-Mart Cosmos into more permanent homes, hopefully they will grow as well as the ones Bluegrass Girl sent me. I have give my surplus seedlings to Pam across the street as I just can't bare to throw them in the trash, I know she'll love them as much as I do! She gave me one of her dark Coleus, hopefully this will grow better that the ones I have started from seed which just don't seem to be growing at all! She tells me that there is a new "trailing" Coleus which grows well in full, harsh sunlight - I'll have to check that out